Player Unknown's Battleground is a famous game that has been in this market for a span of 2 years now. This is an online multiplayer game where a player is getting the liberty of using several game playing modes to many more features and weapons. This game has become very popular both for PC gamers and handheld device gamers. The entire game will feature 100 players where each of them will be landed on an island that will keep on shrinking. So whenever the blue line of the map will be approaching towards you your task will be to escape from it and it reaches a safe place by killing all your nearest enemies. You can play this game in single, double or in a team of four players.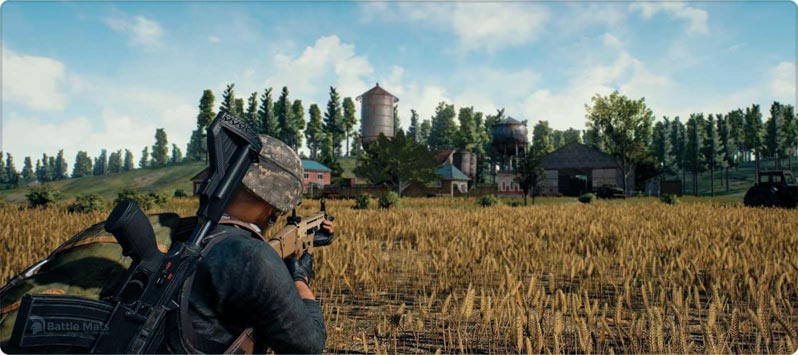 Gameplay
PUBG is a player vs player shooting game where 100 of players will be fighting against one another where your only task will be to survive till the last and win the chicken dinner. There is no limitation when it comes to having weapons because you can pick whatever you are finding on the island along with taking the ones by killing your enemies. Everyone will be landed from the airplane through a parachute and you will have to mark a place on the map where you will land.
Your task will be to gather enough weapons and clothes or gears like helmets till you are encountering an enemy. If you want some exclusive item then you should definitely go for the boxes that are dropped. You will be provided with vehicles for moving around the island in a simple way. There are several modes in this game with various maps.
Features
The best part of this game is you will never run out of weapons because there are plenty on the island.
You have houses where you can hide and aim at your target and use the vehicles for roaming around the island.
You can also play this game on the night mode or in the snow mode.
If you want to avail rare items then you should opt for the airdrops where you can get adrenaline injection to Groza.
Weapons
Assault rifle: When you are opting for assault rifle you will be provided with range, firing speed and power and make sure you are managing a Groza which will help in balancing all of them perfectly. You can only obtain Groza through airdrop and it will be providing you with great firing and will deliver huge damage. You should also consider using Scar L, AKM or M416.
Sniper rifle: There are 4 sniper rifle in this game from which AWN will be providing you with the maximum damaging power so even if you are wearing headgear of Level 3 it can still cause huge damage on you.
DMRs: MK14 is the most preferred DMRs that can cause huge damage with a single shot in a long range. The recoiling is the only disadvantage that it has and you can only obtain it through airdrops.
Why it is the best?
PUBG is one of the most popular games where people are connecting to other people through their social Media and leveling up through excellent performance. The graphics of this game is impressive and irrespective of whether you are playing it on your PC or handheld devices you are going to get the thrilling experience.
So if you want to play pubg you will have to decide the device and install it. You will only need an internet connection and a strong strategy for playing pubg.
PUBG Mobile – Where strategies and skills come together